New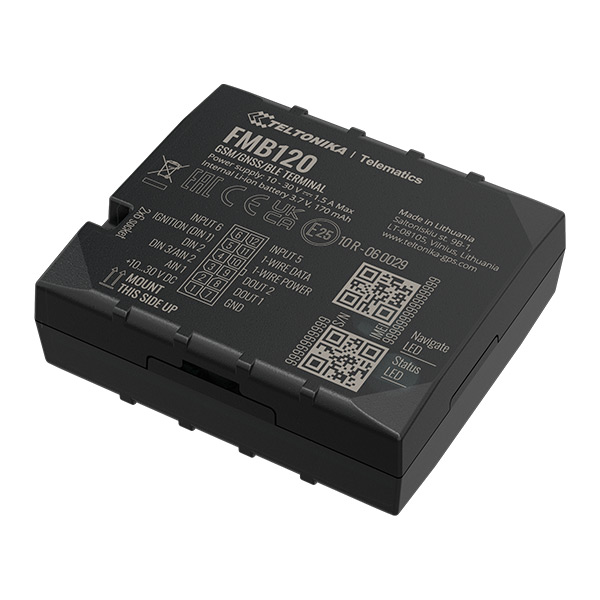 View larger
Teltonika FMB140 - Tracker GPS
395,00 zł tax incl.
tax incl.
FMB140 is an ADVANCED GSM/GNSS/Bluetooth tracker with integrated CAN data processor. It is compact 2 in 1 solution: GPS tracker and CAN adapter inside! Device allows to read CAN data from a wide range of various vehicles, including light & electric vehicles, trucks, buses and special machinery.
New
This product is no longer in stock
Availability date:
FMB140 offers two options available to fulfill any business demands:
LV-CAN200 option – default software version with LV-CAN200 parameters, including fuel level, consumption, odometer, CAN speed, pedal position, Supported vehicle types: light vehicles, trucks, buses.
ALL-CAN300 option*– **advanced** software version allows to read more parameters than default version. Available **additional parameters** include AdBlue level, engine lifetime, airbag. Supported vehicle types: light vehicles, trucks, buses + electric vehicles, agriculture, construction, forest, utility & special machineries.
New generation GSM/GNSS module
With new integrated GSM/GNSS module, your tracking experience will be better than ever before. Even higher sensitivity, faster than ever cold start and almost instant hot start ensures that your fleet will be tracked precisely.
Bluetooth
FMB140 supports Bluetooth 4.0 LE protocol, which lets you connect various external devices and Bluetooth low energy sensors. New device is a major improvement for telematics with easier installation and flexibility to choose proper set of features without a change of hardware.
Various vehicle CAN data
With additional Teltonika Vehicle CAN adapters you will be able to acquire CAN data from any kind of transport such as light vehicles, trucks, buses, agriculture transport, and special transport. Supported vehicles list contains more than 1800 models.
Internal battery
Feel safe when vehicle is monitored by device with internal battery. When vehicle battery is disconnected, device still remains online and sends data to server.
The FMB140 packaging contains:


FMB140 locator
Power cable (0.8 m)
| | |
| --- | --- |
| Height | 18,9mm |
| Width | 56,6mm |
| Length | 65mm |
| Weight | 55g |
| GNSS | + |
| GPRS | + |
| SMS | + |
| Bluetooth | + |
| Internal GSM antenna | + |
| Internal GNSS antenna | - |
| AIN - analog input | 2 |
| DIN – digital input | 3 |
| DOUT | 2 |
| Micro SD | + |
| Accelerometer | + |
| Battery | 170mAh Li-ion 3,7V |
| 10 – 30V | + |
| Overvoltage protection | + |